BevelHeads is a virtual motorcycle club. We specialize in pre-Cagiva era bevel-driven Ducati motorcycles. Our members possess and share a wealth of knowledge for maintenance, repair, and restoration of these increasingly rare beasts. You may join by subscribing to the list located here at micapeak. The list is relatively low-key with a pretty decent signal-to-noise ratio. There is a certain amount of levity, but mostly folks stick pretty close to the fundamentals. There's an archive on yahoogroups, but it is by invitation only and only to list subscribers.
BevelHeads began in 1997 as a distribution list with about 8 guys on it drawn from Vickie's big Ducati list, run from my home computer (56kmodem and all) back in January of 1997. Then Dave Edmondson volunteered to host it out of the UK, and we made it a formal mailinglist. He changed jobs, so I took back the admin duties, we shifted it to a host at micapeak.com in January, 1999, and have been there ever since.
It has grown to between 500 and 550 members from at least 13 countries, comprising nearly all of Western Europe, Scandinavia, Australian and New Zealand,South Africa, Japan, all of North America. There may be other places hidden behind AOL or similar addresses.
We also have some 'Heads gear for sale on occasion, pins: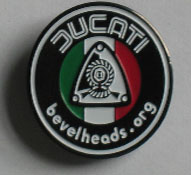 and patches: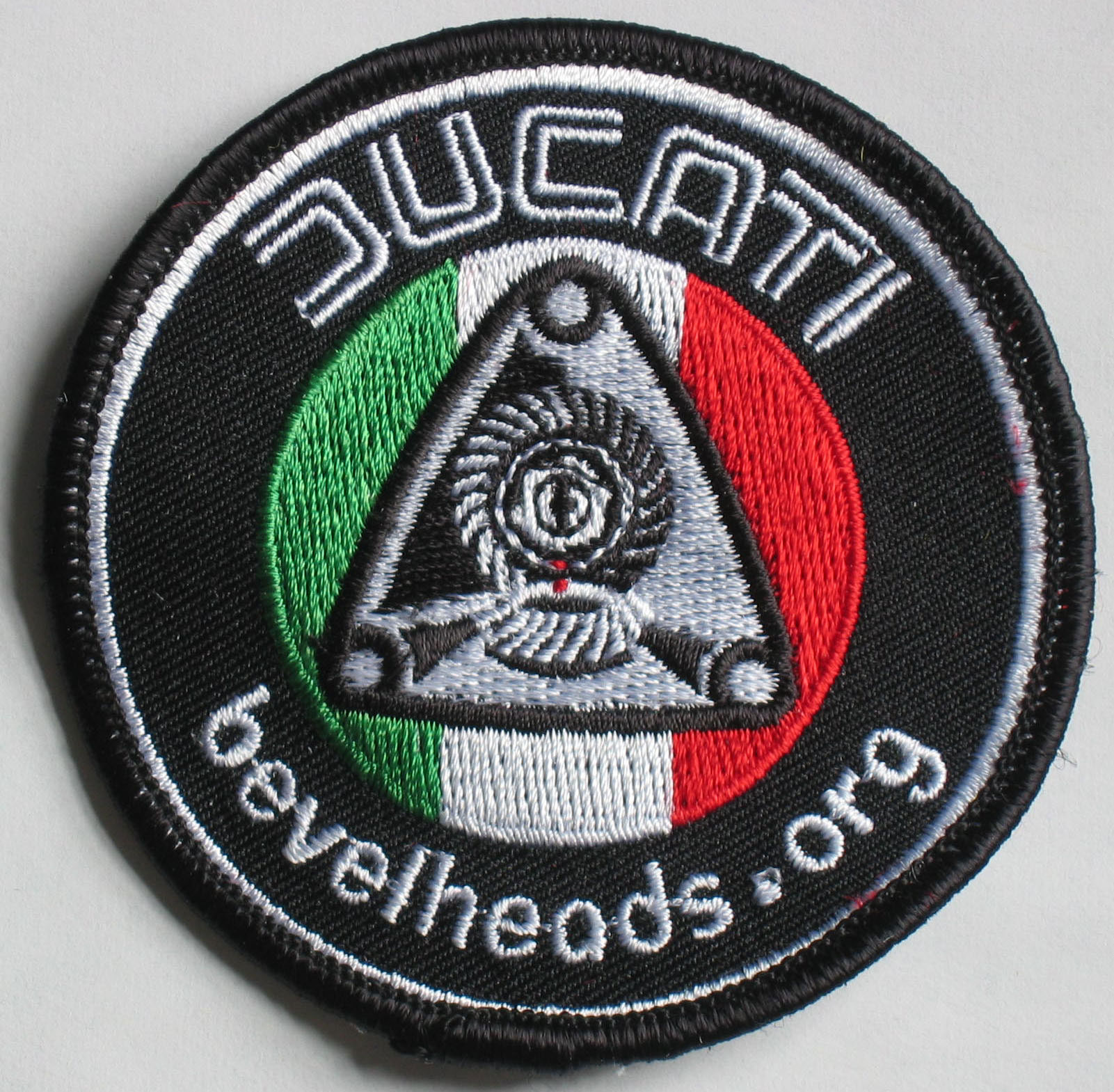 and occasionally T-shirts. Loads of additional interesting and useful information can be found at Rene's and Sue's website, Ducatimeccanica.com. Parts and all sorts of other useful (and scarce) things can often be found at BevelHeaven. More stuff about post-Cagiva (but still not new) Ducatis can be found at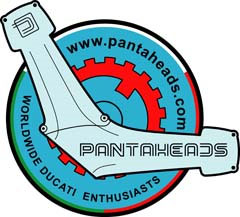 , whose website is here. The focus of Pantaheads is on Ducati motorcycles that are not beveldrive Ducatis from Dr Taglioni's era. An alternate name that almost became the list name is OddDucs, for they tolerate the various models such as parallel twins, 2 stroke dirt bikes, and of course anything with the belt driven 2 valve, air cooled Pantah-design engines. Since many folks are on both Pantaheads and Bevelheads, the social commentary is minimized on Pantaheads and the focus is on technical problems and part sources (we 'Heads do our best not to call their bikes Rubber Duckies).
We are part of a larger thing or two. One of 'em is the Desmo Owner's Club: